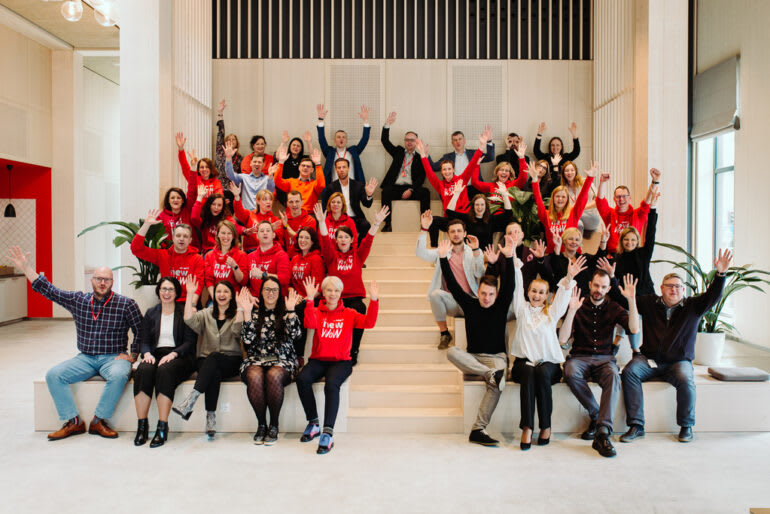 In recent years the development of the retail sector has been characterised by intense competition and rapid changes leading to the industry's digitalisation. Under such conditions, the ability of businesses to be flexible and adapt quickly is critically important to efficient growth. Therefore for more than a year now throughout the Baltic states, the Rimi supermarket chain has been conducting pilot projects of varying scales in which it has tested management process changes, so that from May this year it can completely switch to a new operating model based on Agile principles. This is centred on multifunctional teams ensuring much more efficient and faster work in all day-to-day processes.
The most significant changes involve the organisation of company management. In contrast to the traditional project management approach in which there are certain working processes and a sequence in which they are implemented for the attainment of every objective, from now on Rimi will entrust teams made up of specialists with various skill sets with greater decision-making rights and the freedom to choose the most appropriate solution for the task at hand. Therefore, when it comes to performance of a specific task, team of specialists will be formed with the skills in various fields, who can share experience, and offer a broader view and more diverse skill sets for the attainment of the specific objective.
As Rimi Baltic Board Chairman Giedrius Bandzevičius points out, at a time when the requirements of consumers, partners and employees are changing continually, the company must not only be able to adapt to trends but to outpace them: "Flexibility together with the ability to anticipate new challenges is the main launch pad for efficient growth. This is a deliberate evolutionary step, which will change the very core of Rimi – our management structure and the way how we conduct our day-to-day operations. The transition to a team-based organisation with shared governance enables us to work more intelligently and to improve our performance, integrating digital technologies, data analytics, artificial intelligence and automation into our work."
In addition to multi-functional teams and changes in management structure, the introduction of the new operating model means an even more powerful focus on customer requirements and generation of additional added value. The speed with which new solutions are sought, current challenges are overcome or innovations are introduced, is decisive. At the same time, every innovation must satisfy current customer requirements. In a large organisation, these aspects are always challenging, which is why Rimi devotes special attention to them, in order to operationally test innovations, and to integrate customer feedback into their development process.
"Right now, the transition of the Rimi team to Agile working methods and adaptation to changes in day-to-day work is still taking place, but after the first introductory stages we are already seeing positive changes. Work planning processes have improved, we can respond more quickly and adapt to various external challenges. In turn, development of new solutions is resulting in faster sharing of experience among colleagues from different departments and customer engagement. This clearly shows the main potential benefit from the introduction of the new operating principles at all levels of the company's operations, in other words – increased efficiency. The first company-level priority planning event with the participation of around 800 of employees already took place in all Baltic states at the end of April, thus highlighting a turning point in the transition to Agile working methods and a modern operational structure," explains Giedrius Bandzevičius.
The operating model changes implemented by Rimi mainly involve internal working processes and day-to-day cooperation with suppliers. As part of the process of changes, the company's employees will be provided with opportunities to improve and expand their skills, as well as to undertake new professional challenges, leading teams of varying skill sets and individual projects. In turn, customers can look forward to a broader offering of various innovations and faster adaptation to the latest trends.