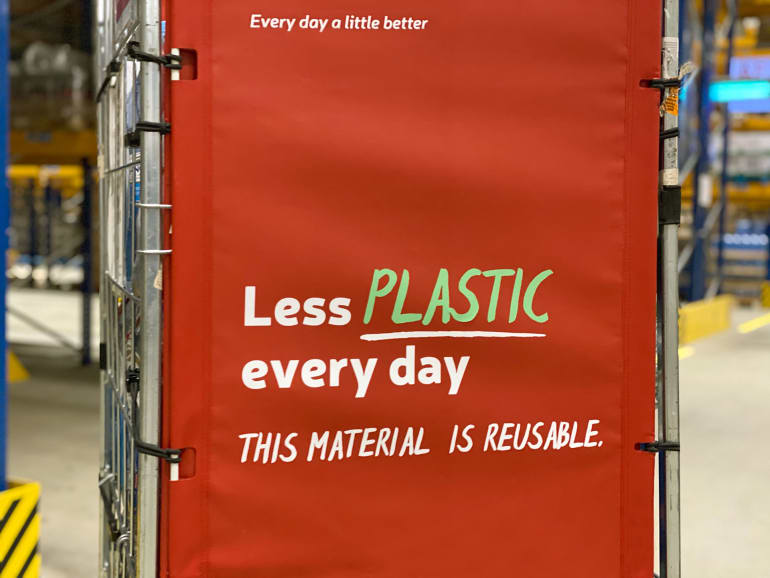 Following companies targets on plastics reduction strategy, we identified that one of the biggest amounts of plastics is used in our distribution centers – wrapping roll cages with stretched foil. Therefore, we started to look for different solutions that would reduce more than 70 tons of plastics per year across the Baltics.
After many testing phases and a successful six-month pilot project in Rimi Lietuva DC, we arrived at an environmentally friendly solution – sustainable textile walls that are created from re-usable material and their life cycle are up to 5 years.
"Thinking and acting sustainably is natural for us at Rimi, as sustainability is part of our company's DNA. Therefore, we carefully analyze every step and process that creates an impact on the environment, society, and other aspects not only from customer perspective, but also by our internal operations. We are glad to be pioneers with sustainable innovation and to be among the first ones that have invested in such a solution in the whole Baltics. We will continue to drive industry agenda towards using renewable or recycled materials in our business!" says Kristīne Pojasņikova, Rimi Baltic Logistic and Supply Chain Director.
The reduction of plastic waste isn't the only benefit of this solution. "It also facilitates the long-term wellbeing of our employees," says Ms. Pojasnikova. "The new solution is more ergonomic and safer to employees working in distribution center and logistics. It also improves the work efficacy – setting up a soft wall takes up to 30 seconds, instead of 40-50 seconds needed to attach a stretch film to the roll container."
Such solution decreases also wear and tear of roll cages during transportation when cages are rubbing against each other.
"It is a real pleasure working with retailers who genuinly care about sustainability. With retailers that are always on a lookout for innovative ideas that can make their operations greener and more efficient. RIMI is definitely one of them, setting a great example for others. The whole project has been very well managed through a pilot testing until the full impementation. Many thanks to everybody who made it possible to save over 70 tonnes of plastic waste each year," says Petr Čermák, "Smartsales" Business Development Manager.