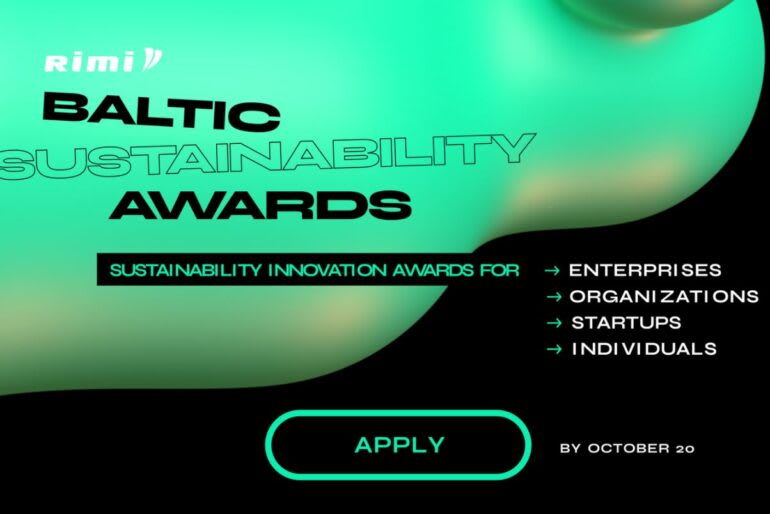 To celebrate the Baltic front-runners in sustainability and highlight the increasing role of innovations in sustainability, Rimi Baltic launches the Sustainability Awards. Applications for the Awards are open from 20th of September until the 20th of October.
Winners from all Baltic states will be announced during the Awards Ceremony at the Future Form conference on the 9th of December. Enterprises, organizations, startups, and individuals are welcome to apply for the Awards in three categories – Impact, Innovation, and Changemaker.
As the importance of innovations in sustainable solutions development and the central role of sustainability in entrepreneurship continues to rise, the organizers' goal is to raise awareness in society about the potential of already existing solutions and encourage peer-to-peer learning among enterprises, industries, and professionals.
"Innovations are crucial in the current business world where sustainability has become a core element. Those companies investing in sustainability and perceived by society as sustainable today will likely become industry leaders tomorrow. With Rimi Baltic Sustainability Awards, we hope to inspire and motivate companies and organizations to continue developing what they have already started and allow their achievements to serve as an example for others. We highly appreciate our partners' trust in our ambitions and vision because only together can we achieve our goal," Marija Rucevska, cofounder of Helve, the initiator and host of the competition, shares motivation behind Rimi Baltic Sustainability Awards.
Zanda Šadre, Rimi Baltic Corporate Brand and Communications Director: "Sustainability is one of the strategic areas of activity at Rimi. It's part of our business DNA. We have come a long way in becoming a sustainable company and implementing sustainable solutions in our daily operations. Rimi also educates and inspires our customers as each of us can make the future a bit greener step by step. Within this project, we want to honor and highlight companies, organizations, and individuals in the Baltics who invest in sustainability and thus inspire others to follow the example. Only by combining our knowledge and our resources, as well as changing our attitudes and our daily habits, will we be able to tackle and prevent the problems that currently affect our environment and thus the future generations."
It is possible to apply for Rimi Baltic Sustainability Awards online in all three categories until the 20th of October. In the Impact category, a jury will evaluate companies' and organizations' achievements at reducing their negative impact on the environment. The organizer informs that this is a broad category, and accomplishments of various scales qualify for it, for example, a transition of the company to a hybrid work model or changing the packaging of the product to a more environmentally friendly material. In the Innovation category, organizers welcome cutting-edge innovations in sustainability or GreenTech from both startups and enterprises. Finally, individuals making a lasting effort for sustainability, bringing attention to the needed change, acting as an example to follow, or educating and inspiring others to act can apply for the Changemaker category. In this category, a winner will be awarded from each Baltic country based on public voting results. An international expert jury will choose the winners for the Impact and Innovation categories. More information on the categories, awards procedure, and application process is available at www.balticsustainabilityawards.eu.
Rimi Baltic Sustainability Awards is happening thanks to the support of its partners Rimi, Dokobit and Citadele. To make sure Rimi Baltic Sustainability Awards are bestowed on the winners resting on data-based, fair, transparent, and clear decisions, organizers have crafted the methodology together with Plan A, one of Europe's leading GreenTech companies. Furthermore, ecosystem partners such as CSR Latvia, Eco Baltia vide (Latvijas Zaļais punkts), AmCham Latvia, The Red Jackets, Sustainable Business Association of Lithuania, Let's Do it World, CleanTech Estonia, Estonian Social Enterprise Network and others have joined and will delegate experts for the jury.
Applications for Rimi Baltic Sustainability Awards can be submitted until the 20th of October at www.balticsustainabilityawards.eu. Participation is free of charge. Companies, NGOs, and organizations from the public sector are welcomed to submit an unlimited number of applications for the Impact category. Companies and startups applying for the Innovation category are also encouraged to submit an unlimited number of innovations, while for the Changemaker category, each individual can apply only once. The finalists will be announced on the 10th of November. Public voting will start right after the finalist reveal to determine winners in the Changemaker category. The finalists will present their stories at the awards ceremony on the 9th of December, when winners will be awarded. The Rimi Baltic Sustainability Awards ceremony will be a closing event of the Future Forum conference, taking place onsite in Riga (if the epidemiological situation allows) and online.