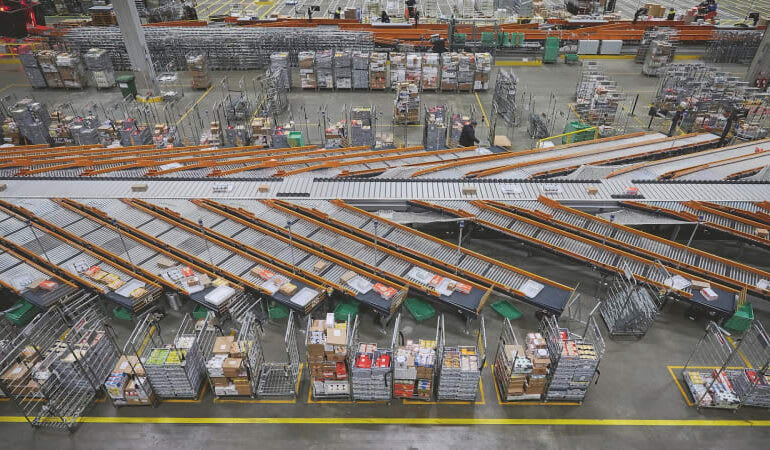 In order to improve the efficiency and accuracy of the product sorting process and promote a safer work environment for employees, by investing 4.4 million euros Rimi has introduced a unique automated goods sorting system in the Baltics at the logistics center in Riga, A.Deglava Street 161. The system packs fresh food, fruits and vegetables, as well as alcoholic and other beverages for 168 stores throughout the Baltics.
The new system simultaneously ensures order picking for stores in all three Baltic countries and mainly – in the amount of about 80% – in Latvia. As the Rimi store chain constantly grows, the specifics of the system will allow to further increase the number of these stores.
In daily work, the automated sorting system improves the efficiency of the goods sorting process by reducing the number of employees required in the most intensive work area at a temperature of +4 degrees, as well as simplifies logistics processes. It also promotes better ergonomics, a safer and less intensive environment for employees, as well as improves sorting accuracy, thus reducing the number of damaged products during the sortation process.
"In a situation when the Covid-19 pandemic has not yet fully receded, a significant advantage of the new sorting system is not only efficient and fast assembling of store orders, but also safety for our employees, as its specificity ensures a sufficient distance between employees. The accuracy of the system is also a great benefit – the automation process increases the quality of assembly and reduces human errors. As the system operates in unique conditions – at a reduced temperature from +2 to +6 degrees – we can process all types of products, especially fresh food, such as milk, cheese, dairy products, without affecting their quality," says Kristīne Pojasņikova, Rimi Baltic Supply Chain and Logistics Director.
The sorting system works seven days a week, 22 hours a day, devoting the rest of the time to system maintenance. The system covers an area of ​​approximately 3,650 square meters and can handle 7,500 packaging units per hour. The belt speed is two meters per second, and one full circle of product boxes takes two minutes. One person can assemble an average of five to six store orders at a time, and user-friendly screens ensure a fast learning process and thus high operator productivity.
The supplier of the sortation system is the company Vanderlande's Industries B.V., which is one of the leading manufacturers of automation systems in the world, providing, for example, luggage belts at airports. Vanderlande's Industries B.V will continue to provide Rimi with remote service, system maintenance and quality inspections, but on a daily basis the sortation system will be taken care of by a professional team of Rimi technicians.