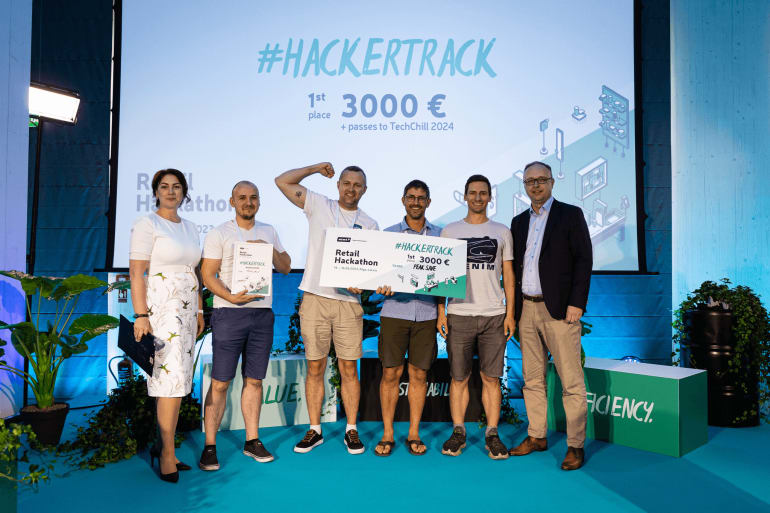 Rimi, a leading retail chain in the Baltics, last week has accomplished an exceptional milestone with the successful completion of its inaugural retail hackathon within Rimi Open Innovation platform. The event witnessed a remarkable response, attracting 52 startup applications from 15 countries across the globe. After three days of intense work in Rimi headquarters in Riga and careful evaluation process, Rimi has selected six startups for paid pilots, paving the way for innovation and collaboration in the retail industry.
Among the numerous applications received, 22 startups were given the opportunity to engage with Rimi representatives and present their specific proposals for paid pilot projects. From this group, Rimi carefully selected six startups to embark on pilots, reserving funding in total amount of EUR 200 000 aimed at testing their products or services.
The evaluation process was conducted by the Rimi Future Business Board members, consisting of Vaidas Lukoševičius, Vaido Padumäe, Valdis Turlais, Liene Perija, Dainis Bērziņš, Gita Rudoviča, Maris Rannus, Andris Vedigs and Zanda Šadre.
The winning startups from the hackathon's startup track were: Traxlo (Lithuania), Envelope (Estonia), LiTech (Estonia), goodbag (Austria), Footprints AI (Romania), Revo Food (Austria).
"Open innovation is an effective way for large and stable companies to inject new ideas and work methods into the organization. During the three-day hackathon, around 60 employees met with 22 startups to design their pitch on potential collaboration. The startups presented to the jury of the Future Business Board. This approach has proven successful, as we have surpassed our year goal of initiating five pilot projects for new business models, efficiency, or sustainability in just three days. Now, we enter the most exciting phase, where we set goals and timeframes for launching pilots and evaluating the results," says Future Business Board member Zanda Šadre.
Additionally, 20 startups participated in an online quick pitch session with selected members by the Rimi Future Business Board. From this group, "Dabas Trauks" (www.chum.lv), a company focused on creating disposable tableware made from oats, earned recognition from the Future Business Board. "Dabas Trauks" will receive mentoring and support from Rimi to further develop their innovative solution.
With over 120 registrations for the hackathon track, a total of 54 individuals formed teams, and 20 teams commenced their journey. Four teams were formed internally by Rimi employees, highlighting the company's commitment to fostering internal innovation.
Additionally, the winners of the hackathon's hackers track were Peak Save (Latvia), receiving EUR 3 000, tickets to the conference "TechChill 2024", along with the opportunity to explore further collaboration with Rimi Baltic. Second place and award of EUR 1500 received Help'a'bit (Estonia) and third place and award of EUR 500 received startup Food Fellas (Estonia).