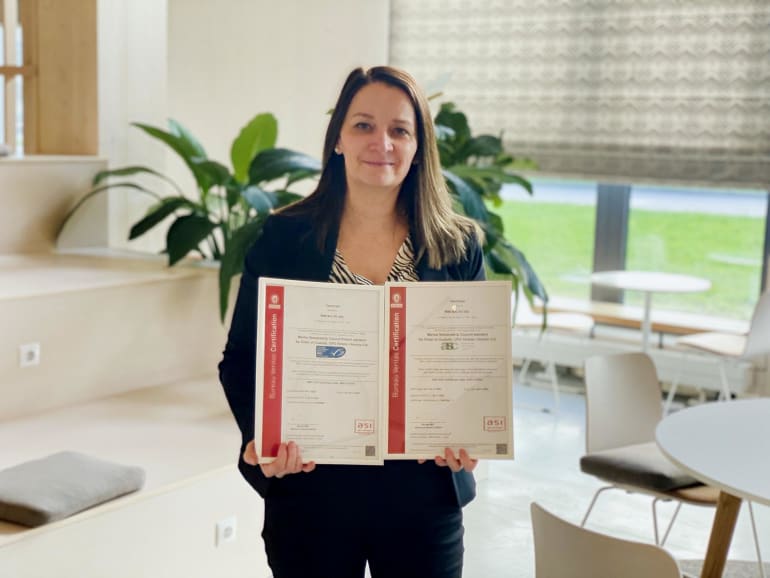 Celebrating World quality week, we are proud to share news about important milestone in the sustainability area of Rimi Baltic. After more than a year of intensive work, the certification process for the MSC/ASC CoC CFO (MSC/ASC Chain of Custody Consumer Facing Organization certificate) is concluded successfully. Rimi has become the first retailer in the Baltics to receive this world recognized certification. We are now entitled to sell bulk certified fish and seafood products what will be specially marked in the stores. Until now, certified sea products were sold in the stores without MSC/ASC status communication. Currently we are selling 18 certified Rimi private label fish and seafood products and the amount will be increased.
"ASC/MSC Chain of custody certification means that the entire supply chain of fresh and frozen fish and seafood, from the farm or fishery to the store shelf, meets high sustainability standards. As customer interest in responsibly fished or farmed fish and seafood grows in Europe, such certification can act as a positive effect in attracting new customers who make responsible and sustainable choices every day. This certificate demonstrates the company's participation in the social responsibility areas. With our certified product purchases, we support producers and suppliers who care about the restoration and preservation of the fish and seafood population. By purchasing certified products, we can be sure that fish or seafood has been grown or caught and processed in accordance with environmental and sustainability requirements and principles," Judit Campos, Assortment & Buying Director.
*MSC (Marine Stewardship Council) and ASC (The Aquaculture Stewardship Council) are considered the highest global standard for responsibly managed wild caught and farmed fish and seafood. MSC and ASC share a vision that global fish and seafood supplies should be sustainable, responsibly managed and supported by secure supply chains.