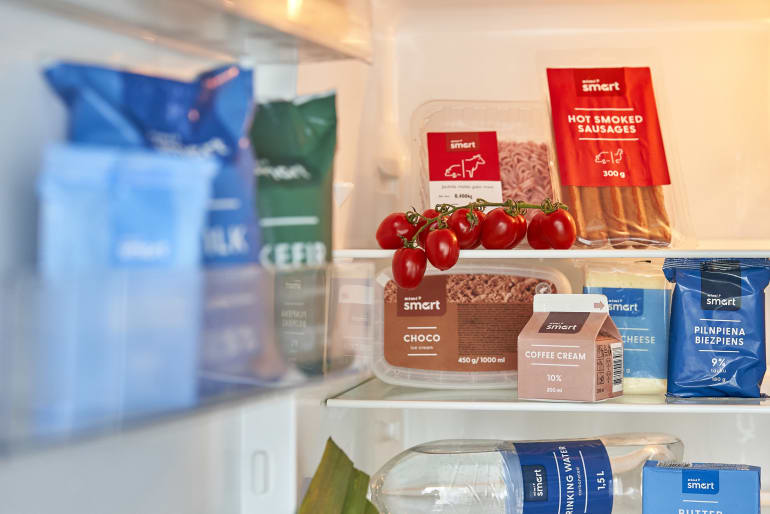 Expanding range of affordably priced products and bolstering private label offer, Rimi Baltic is launching a new low-price brand, Rimi Smart, which will be more eye-catching and easier to find on store shelves. About 150 products in various product groups will be offered under this brand. Products are already gradually being introduced in Rimi stores, replacing current Rimi Basic brand products.
Rimi Smart products will be on offer in practically all food and convenience product categories, with the exception of specialized food, alcohol and tobacco. Alongside the rebranding of Rimi Basic products, work is also ongoing on the creation of some brand-new Rimi Smart products.
"In creating this brand offering, our objective is to offer the lowest prices possible, and at the same time maintain high product quality. Moreover, this autumn in particular, both inflation and the anticipated rise in energy prices and other household costs are generating heightened interest in low-price products. Right now, a notable market trait is increased customer interest in private-label products, because people appreciate the chance to buy quality products at affordable prices including milk, meat and various cereal products. Additionally, we are committed to working intensively with local producers - currently 40% of all Rimi Smart label products, are produced in the Baltics, and we are planning to increase the number," says Rimi Baltic Commercial Engine Director Vaido Padumäe.
Rimi's private label programme has been available in the market for over 20 years. Alongside the core brands Rimi, Selection by Rimi and Rimi Smart, the offering includes over 15 other brands in various product categories. The growing trend of customers switching from brands to private label products is discernible not just in Latvia and the Baltic States, but throughout Europe. It is also compelling major European retailers to consolidate their low-price private label brands.
"Our primary consideration in creating the Rimi Smart assortment is ensuring that it includes most of the products one needs on a daily basis to be able to cook a proper meal. Reflecting the fact that customer needs and wishes vary, our offering is broad enough that every consumer can find what they're looking for. At the same time, we want to maintain a good balance between price and quality, making the brand even more distinctive and recognizable," explains Padumäe.
Among the Rimi Basic product offering, milk, meat, and cereal products have always been popular, on the basis of which most likely they will also be among the products in greatest demand under the Rimi Smart brand. The majority of the Rimi Smart product offering will be identical in all three Baltic States because a bigger volume allows us to offer lower prices. However, a few products will be unique to each country including traditional curd cheese in Lithuania and fresh poultry meat of local origin in Latvia, etc.