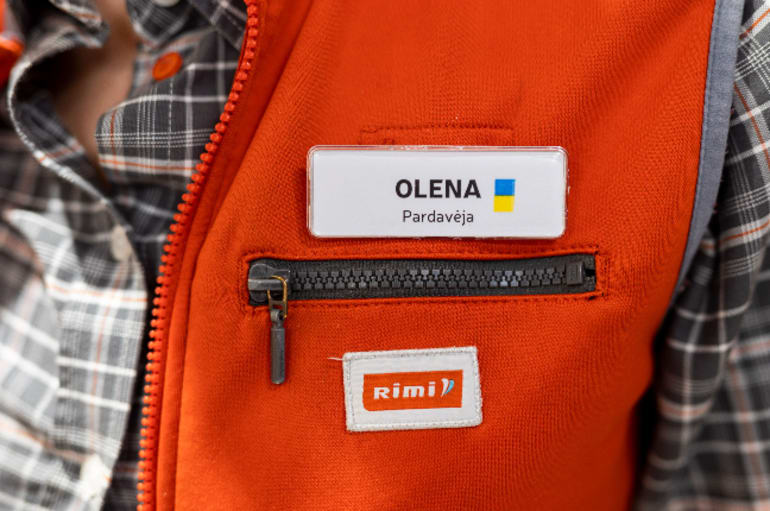 To support the nation of Ukraine and those who have been forced to flee because of the military invasion of Russia, the Rimi chain of stores is offering 200 jobs to Ukrainian refugees throughout the Baltics, as well as introducing several opportunities for shoppers to support the people of Ukraine. Starting from the next week Rimi buyers can make donations to support Ukraine in the Rimi e-store or use their My Rimi money for this purpose. Also Ukrainian products are highlighted on store shelves, so that every shopper can help the Ukrainian economy with their daily product choices.
In every Baltic country Rimi is closely working with charities that are providing support to Ukraine, to give Rimi customers the opportunity to donate the My Rimi money they have accumulated under the loyalty programme to support Ukraine and its people. Already from the next week customers can do this on their profile on the Rimi website or in the info kiosk in store. In Latvia, these funds will be directed to the Food Bank of the Latvian Samaritan Association "Paēdušai Latvijai", Estonia will deliver them to the Red Cross organization and in Lithuania, these funds will be made available to the Lithuanian Food Bank and organization "Save the children". Donations can also be made by adding them to the shopping cart in the Rimi e-store. Funds from donation boxes located at store checkouts will also be channelled to support Ukraine.
Right now, the people of Ukraine, who have been forced to leave their country due to the war, are already arriving in the Baltics. In addition to support packages for basic necessities, Rimi stores in Latvia, Lithuania and Estonia are offering 200 jobs for Ukrainian refugees to help them adapt to the new conditions.
"This is a very emotional time in our society and also within the company. However, I am proud that these emotions are manifesting themselves in the form of a clear desire to help. Our parent company ICA Gruppen and Rimi Baltic's subsidiaries are strictly against the war, in solidarity with Ukraine and the Ukrainians, many of whom are among our employees and customers. That is why we believe that decisive action is needed, both by donating funds and by helping with the resources at our disposal. We are currently working closely with organizations and government agencies throughout the Baltics to provide food and basic necessities to refugees. We have also removed products from Russia and Belarus from our stores and are inviting our customers to choose Ukrainian goods instead," explains Giedrius Bandzevičius, CEO of Rimi Baltic.
In response to the wishes of our customers, products made by Ukrainian manufacturers are highlighted on the shelves of Rimi stores throughout the Baltics with the Ukrainian national flag. Shoppers are encouraged to buy these products in recognition of the fact that this supports Ukrainian businesses and country's national economy. It should be noted, however, that some Ukrainian products may be in short supply, as their supply chain is also affected by the ongoing war.
Rimi's parent company, ICA Gruppen and the ICA Retailers` Association has donated SEK 10 million through the ICA Foundation, which is earmarked for the Red Cross' humanitarian work providing aid to people in Ukraine and those fleeing Ukraine. Rimi also provides direct support to its employees through the Colleagues Support Fund. The fund is funded by employee and Rimi donations and aims to provide support to employees as well as their families in the event of an emergency. Recognizing that Rimi employees or their relatives can be directly affected by the hostilities in Ukraine, the fund has now been activated and additional funding has been provided to ensure immediate support as appropriate.