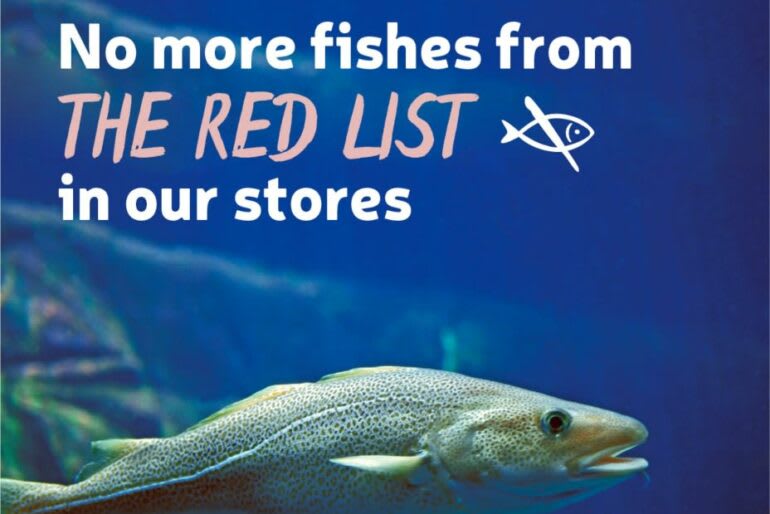 In support of sustainable choices in the purchase of fish and seafood, already from June 1, 2020 Rimi has stopped buying fish from the Red List of the "Fish Guide" developed by the World Wide Fund for Nature in all Baltic countries. Rimi is the first retailer in the Baltics to stop selling red-listed fish, thus supporting the principles of responsible fishing.
According to the Food and Agriculture Organization of the United Nations, more than 85% of seafood and fish stocks are already overfished or completely caught, contributing to the negative ecological and social consequences in the world. Rimi has carefully analyzed its assortment of fish and seafood and decided to stop buying fish and seafood from the Red List of the World Wildlife Fund. Species on the Red List of Fish and Seafood whose fishing or farming is unsustainable are harmful to the environment and the living organisms that live there. The list also includes those fish that have been caught using illegal fishing methods, as well as polluting the water body, which causes damage to the water ecosystem.
Discontinuing the purchase of red-labeled fish and seafood and cooperating with the World Wide Fund for Nature is an important first step towards a sustainable fish supply in Rimi's range and a long-term investment that will enable Rimi customers to support sustainable fishing and improve the future in the world's oceans and seas.
In order to encourage customers to change their habits and encourage more sustainable choices, Rimi, together with the World Wide Fund for Nature, is informing customers and placing information materials in stores so that customers can make a more informed choice of products from Rimi's wide range of seafood. Promoting a healthy and responsible lifestyle has always been an essential part of Rimi's activities, both in providing a wide range of products and in implementing and supporting various sustainable initiatives.