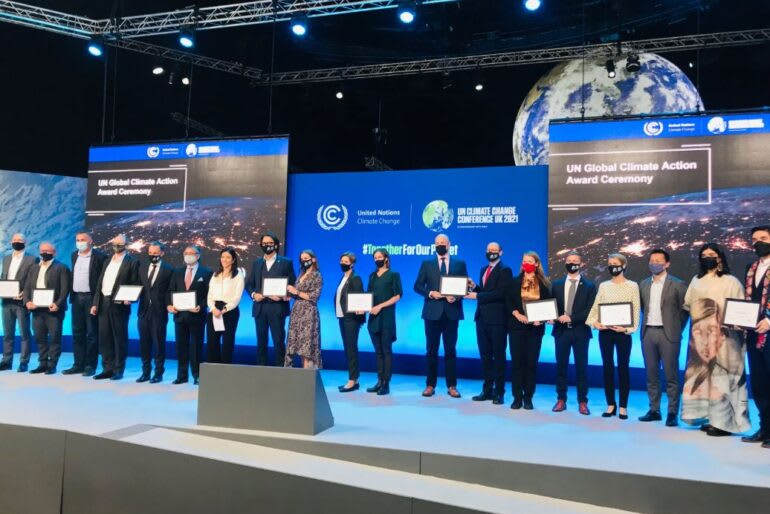 At the UN Climate Change Conference COP26 in Glasgow on November 10th, ICA Gruppen, the mother company of Rimi, has received an award for its "Beyond Climate Neutrality" climate ambition. This award confirms the company's efforts to achieve climate neutrality and to reduce the impact on the climate among suppliers and customers. Representatives of Rimi and ICA Gruppen also met with Lithuanian Minister of Environment, Latvian Minister of Environmental Protection and Regional Development and the adviser of Estonian Minister of Environment to discuss current issues and possible solutions to further reduce the environmental impact of the retail and food sectors.
"Climate change can only be tackled by global and concerted action, and we need the contribution of every industry to achieve climate neutrality in 2050. The individual choices and habits of each person are also important, as sustainable consumption and forward-looking management depend to a large extent on each individual's actions, as only by working together we will be able to strike a balance between nature protection and economic development. Of course, the public sector and large private companies must take the lead in achieving climate goals, and by setting a positive example, making smart decisions and implementing environmentally and planet-friendly change, we can ensure that nature does not turn our backs on us. It is a special pleasure for companies that are already making a significant contribution to a greener consumption and a more sustainable economy," says Artūrs Toms Plešs, Minister of Environmental Protection and Regional Development.
"Former UN Secretary-General Pan Kimun wisely and rightly said a few years ago that we are the first generation to eradicate poverty and the last to fight climate change. I think we all agree that this means great opportunities, but also even greater responsibility. That is why we are particularly pleased and proud of what we have achieved, because we have not only succeeded in meeting the targets set for 2020, but also in exceeding them, and this shows that we have made responsible and right choices. The UN's recognition is a great honor for all ICA Gruppen employees and an encouragement towards the next goal of becoming a climate-friendly company," said Kerstin Lindvall, Head of Corporate Responsibility at ICA Gruppen, who received the award at COP26 Glasgow.
ICA Gruppen, including Rimi, became a climate-neutral company in 2020, achieving a 81% reduction in greenhouse gas emissions compared to 2006 and offsetting the remaining emissions with carbon credits. At the same time, ICA Gruppen has set itself the goal of achieving zero emissions from its operations by 2030 and halving the climate impact of its customer food basket compared to 2020.
"Achieving climate neutrality is a goal we have been working on for many years. Food production has a huge impact on the environment, but humanity cannot survive without it, so we must do everything we can to reduce it. And food retailers have a particularly wide range of options to do so. Therefore, today we are very pleased with the recognition of the company, which motivates us even more and continues to inspire us to continue the link between production and consumption by introducing positive change," said Zanda Šadre, Rimi's Head of Corporate Communications in the Baltics.
ICA Gruppen was the first food retailer in Sweden to approve its climate targets in 2018 with Science Based Targets, and the first company to set a target to reduce the climate impact of customers' food purchases. The company's commitment to reducing its climate impact is not limited to food retailing by ICA Sweden and Rimi Baltic. The group company Apotek Hjärtat has set a goal to halve the climate impact of its pharmaceutical customers by 2030, while ICA Real Estate plans to achieve zero climate impact in construction projects by 2030.