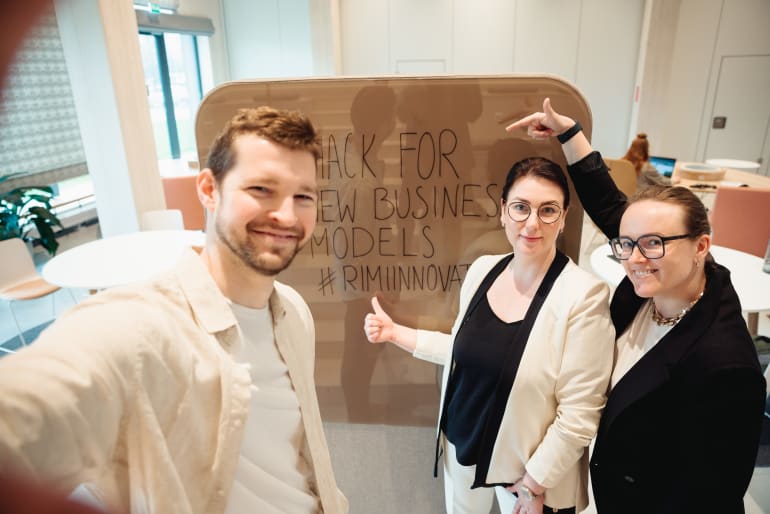 On June 14-16, the retail hackathon will take place in Riga and online. With this, Rimi Baltic will launch its open innovation platform with estimated funding of EUR 1 million for proofs of concepts (PoC) and pilots.
From today, Rimi invites both ambitious individuals and teams with innovative ideas and established start-ups to apply to participate in the hackathon and get the opportunity to co-create new business models with Rimi, as well as develop their products and services. While individuals and teams will undergo a traditional hackathon process of developing and validating brand new ideas in 48 hours, established start-ups will have the chance to undergo an accelerated sales sprint and to prepare a custom-tailored product pitch for Rimi.
"We are looking for disruptive, bold ideas to co-create together with innovators across the Baltics that will greatly impact the retail industry and support our business ambitions," says Liene Perija, Rimi Baltic Digital Development Director.
Over the next three years, Rimi Baltic plans to provide funding of at least EUR 1 million for innovative co-projects that transform and build on the strengths of its core business, as well as to develop pilot projects with Baltic and European innovators and start-ups. The main challenges in response to which Rimi is calling for cooperation are I Innovative offerings and services, II Efficiency and speed, III Sustainable shopper choices, and IV Value of money* through new business models and next generation technology such as automation, artificial intelligence and advanced analytics.
At the same time, Rimi wants to make a significant contribution to the development of the start-up ecosystem in the Baltics, promoting the development of more highly-rated start-ups per capita.
Rimi is aiming to evaluate at least 60 quality start-up company applications per year and attain five operational PoCs and pilots. On Rimi's side, the open innovation platform will be overseen by the Rimi Baltic Future Business Board, comprised of management team members and industry experts. As part of the process, start-ups will get a regular opportunity to pitch their products and services to the Rimi Baltic Future Business Board to potentially arrive at an arrangement that benefits all parties involved: Rimi, the start-up, and shoppers.
In turn, the innovation company Helve has been selected as an ecosystem partner. Rimi Baltic has collaborated with Helve for the past three years within the open innovation accelerator Future Hub, implementing four pilot projects in the field of sustainability innovations. 
Apply to the hackathon until 9th of June here: https://www.rimibaltic.com/innovations.
For further information please contact:
Alise Lazdāne (Rimi Baltic Corporate Communication Manager)
Alise.Lazdane@rimibaltic.com